Sold this card on Friday. Thank goodness it's Friday! And the card is going to California. And as you would have already guessed, the wordings on this card is a spin of from the original expression "Thank God It's Friday."
Apparently, also found out that the acronym "TGIF" is included in Katy Perry's "
Last Friday Night (T.G.I.F)
" single title. Before this, I just thought the song as just "Last Friday Night", never knew about the TGIF part. Anyway, I think
Katy Perry
is a fabulous singer, and so she deserves this card too.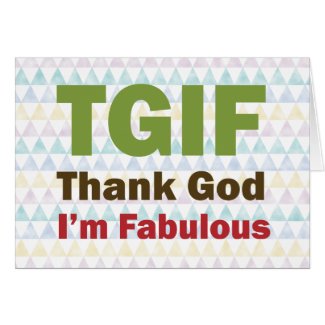 TGIF Thank God I'm Fabulous Card
by
Tees2go
See more Tgif Cards at
zazzle.com